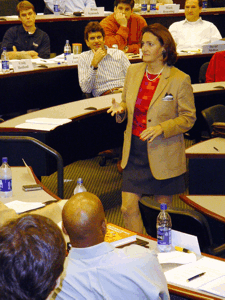 McGarvie supports the community through her teaching, funding and civic engagement.
Teaching
She taught at Harvard Business School from 2012 to 2014 where she had a full-time faculty appointment teaching the MBA required curriculum course, Financial Reporting and Control at Harvard Business School. She worked with the faculty to produce teachable case studies. Also, she taught the FIELD group in Chongqing China in January 2014 in which students engaged 5 companies to adapt and shape Design Thinking projects developed during the semester course. Stanford University introduced this term. The Design Thinking process first defines the problem and then implements the solutions, always with the needs of the user demographic at the core of concept development.  This process focuses on need finding, understanding, creating, thinking, and doing.  At the core of this process is a bias towards action and creation: by creating and testing something, you can continue to learn and improve upon your initial ideas.
---
Funding
She provides funding to organizations which protect the local environment, provide education in the liberal arts or create world-class opera including:
Historic Virginia land Conservancy
Northwestern University
Lyric Opera of Chicago
Colonial Williamsburg Foundation
Civic Improvement Volunteer Institute
Heritage Humane Society
---
Civic Engagement
Civic Engagement means promoting the quality of life in a community in which we live by working to make a difference and developing the combination of knowledge, skills, values and motivation to make that difference. McGarvie exercises her civic engagement through some of the same organizations she supports with funding.
---
Shaking The Globe "Every manager needs to see the new world through several lenses. Blythe provides ...