To stay relevant in 2022 and beyond, Blythe has recently focused on ESG, Cyber risks and will be part of the June TWIN event as follows:
Completed a 6-week course called the Circular Economy and Sustainability Strategies offered by the University of Cambridge online. Many interactive sessions required research and weekly completion of projects to earn the certificate.  Studying the hospitality industry, Blythe focused mainly on the "E" in Environment, Social, and Governance and a variety of companies and experts like the Ellen MacArthur Foundation. https://ellenmacarthurfoundation.org/
Earned CERT Certificate in Cybersecurity Oversight program from Carnegie Mellon, jointly developed with NACD.
Participate annually with TWIN (The World Innovation Network) involving innovative participants from over 28 countries represented. Rob Wolcott is the mastermind behind this group and planning a meeting in Miami Beach with the theme Transcend. "Save the date for TWIN Impact 2022, themed TRANSCEND, June 1 – 3, 2022, at the spectacular New World Center in Miami Beach, Florida."
NACD Private Company Directorship launched this Fall, 2020 a new journal about private company governance issues (including family-owned and private-equity-owned company board issues)
Click on this link to read Blythe's article
Connect the Dots: Risk Management Leads to Growth Opportunities
A New Corporate Responsibility: Shaping Attitudes Toward Work
War for Talent: Flexibility Creates Strength
---
Don't be Rip van Winkle during this challenging time
---
Shaking the Globe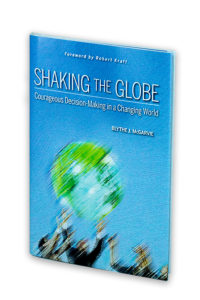 In Shaking the Globe: Courageous Decision-Making in a Changing World, Ms. McGarvie writes from the perspective of her experiences in international business. Her board work and professional experiences in India, China, Japan, France, Germany, the Netherlands, Finland, Chile, Mexico, the Philippines, Australia, Singapore, Indonesia, Turkey, Dubai, Russia and beyond have helped shape her views that the world is shaking. Business can provide a common language and goals, but only when the parties' focus remains on business. In this book, she writes that western business leaders must develop the courage to enter new cultures with a perspective of common interest—not as people holding an attitude of cultural or moral superiority or a self-image of being dominant.
This book offers a framework for identifying an individual's courage quotient and provides a foundation in financial realities to understand the factors that will prepare business executives and their teams to take their organizations onto the global stage and succeed. These factors include cultural norms, winning the war for talent, women working, shareholder interests, entrepreneurs from A to Z as well as values and global context. Published by John Wiley & Sons in 2009, it is a bestseller.
---
Celebrating 10 Years & Looking Ahead to the Next 10
Ten years ago, Blythe published the best-selling international business book Shaking the Globe: Courageous Decision-Making in a Changing World. Read her newest article to discover the many predictions that came true and the optimism Blythe foresees for global business heading into 2020 and beyond.
---
Fit In, Stand Out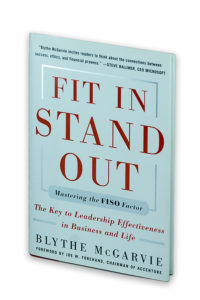 Mastering the FISO Factor, The Key to Leadership Effectiveness in Business and Life, Ms. McGarvie writes about the two critical aspects of a leader: the ability to integrate into a system and work with a team while also having the talent to transform the organization and your own career. Research showed that leadership requires 6 skills that can be developed and lead to confidence, trust, access, innovation, balanced judgment and agility. She writes how and when to fit in and stand out and provides 36 vignettes of individuals whom she interviewed and admired for their performance and genuine success in life.
McGarvie opens the book with an author's note explaining her passion and establishing her authority on this much-needed resource called leadership. Published by McGraw-Hill in October 2005 and distributed outside the US, including Spanish, Indian and Russian language versions. Joe Forehand, former Chairman and CEO of Accenture wrote the Foreword.
---
---