Shaking the Globe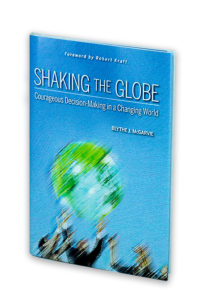 In Shaking the Globe: Courageous Decision-Making in a Changing World, Ms. McGarvie writes from the perspective of her experiences in international business. Her board work and professional experiences in India, China, Japan, France, Germany, the Netherlands, Finland, Chile, Mexico, the Philippines, Australia, Singapore, Indonesia, Turkey, Dubai, Russia and beyond have helped shape her views that the world is shaking. Business can provide a common language and goals, but only when the parties' focus remains on business. In this book, she writes that western business leaders must develop the courage to enter new cultures with a perspective of common interest—not as people holding an attitude of cultural or moral superiority or a self-image of being dominant.
This book offers a framework for identifying an individual's courage quotient and provides a foundation in financial realities to understand the factors that will prepare business executives and their teams to take their organizations onto the global stage and succeed. These factors include cultural norms, winning the war for talent, women working, shareholder interests, entrepreneurs from A to Z as well as values and global context. Published by John Wiley & Sons in 2009, it is a bestseller.
---
Fit In, Stand Out
Mastering the FISO Factor, The Key to Leadership Effectiveness in Business and Life, Ms. McGarvie writes about the two critical aspects of a leader: the ability to integrate into a system and work with a team while also having the talent to transform the organization and your own career. Research showed that leadership requires 6 skills that can be developed and lead to confidence, trust, access, innovation, balanced judgment and agility. She writes how and when to fit in and stand out and provides 36 vignettes of individuals whom she interviewed and admired for their performance and genuine success in life.
McGarvie opens the book with an author's note explaining her passion and establishing her authority on this much-needed resource called leadership. Published by McGraw-Hill in October 2005 and distributed outside the US, including Spanish, Indian and Russian language versions. Joe Forehand, former Chairman and CEO of Accenture wrote the Foreword.
---
Current Project
Toughest Choice of All: Sherri Chessen, Silent No More (Book in process)
How do you live a courageous life? How do women overcome limitations to their success? How can you live a normal life and also make a difference to society? Audiences and millennials ask me these questions and wonder if there is a woman who overcame difficulties while having a career, a family and independence. I searched for a living role model who found happiness and success while still able to alert others to threats to and societal restraints upon female autonomy.
I first discovered Sherri Chessen, known to millions of TV viewers in the late 1950s and early 1960s as "Miss Sherri" on Romper Room, when listening to Meryl Streep narrate a DVD series entitled Makers: Women Who Make America -- a 2013 documentary film about the struggle for women's equality in the United States during the last five decades of the 20th century. Makers features interviews with women from all social strata, from politicians like Hillary Rodham Clinton to television stars like Ellen DeGeneres and Oprah Winfrey, to flight attendants, coal miners and phone company workers.  Then, I reached out to Miss Sherri who agreed to let me write her biography.
---